As your local water utility provider, we strive to keep you continually updated on all matters related to your water service. Please contact our office and we will gladly assist you!
We'd like to provide an update and clarification to how we are addressing water that was lost during period of broken pipes during the February freeze.
We hope that you and your loved ones are...
We hope that you and your loved ones are safe after the extreme winter storm two weeks back. We realize that many families within Creedmoor-Maha lost water from broken pipes and other incurred...
Good News! Boil Water Notice Lifted!
Thank you for all your support and patience throughout these past two weeks.
Our systems are still operating at normal capacity. Aqua Water lifted their boil water notice. Now, we have to determine if we have contaminants in our water for which we sent out our water...
All water operations are back to normal and our pressure is back up! However, we still need to boil our water for 2 minutes because one of our water suppliers - Aqua WSC is still under a boil...
Progress has been slow over the past 24 hours because usage has once again increased, preventing us to fill the storage tanks to increase the water pressure. This is resulting in us having to
Thanks to all the members who are conserving because about 90% of our community has water! More of us need to conserve water because the pressure will continue to stay low until we fill up the...
Our conservation efforts continue to have a positive impact - we have now resumed water services to ALL our members! However, the pressure remains low so we have to continue to conserve water to...
As of this morning, 50% of our members have water. Our crews continue to work 24/7 to increase service throughout Saturday and Sunday provided we don't have any major pipe and equipment breaks and...
Services have started expanding through the east of 183. However, we are now facing a major challenge - water is being used faster than we can fill up the storage tanks for the pressure needed to...
As of this afternoon, we've made a little more progress towards resuming water services. Austin Water has increased our supply close to half our quota. We are still using our groundwater wells to...
We have been able to resume services in Mustang Mesa, Palmer Rd, Crane Rd and parts of Old Lockhart Rd.
We are currently working to resume services to the west of 183. We will then expand...
Due to the loss of water from our Austin Water and Aqua WSC sources, we are operating the whole system on our wells. Our wells cannot produce enough water to serve the entire system and our...
Due to increasing water losses through residential pipe breaks, Creedmoor-Maha system water pressure has been affected. It is now necessary that for all customers to boil water before...
The water being lost from broken pipes is draining the water system capacity. Please review your home and surrounding area to determine if there are any broken pipes.
If you have a broken pipe...
Due to sporadic power outages, Creedmoor-Maha is experiencing problems with maintaining sufficient water availability.
At approximately 7:30pm tonight all water service will be suspended to...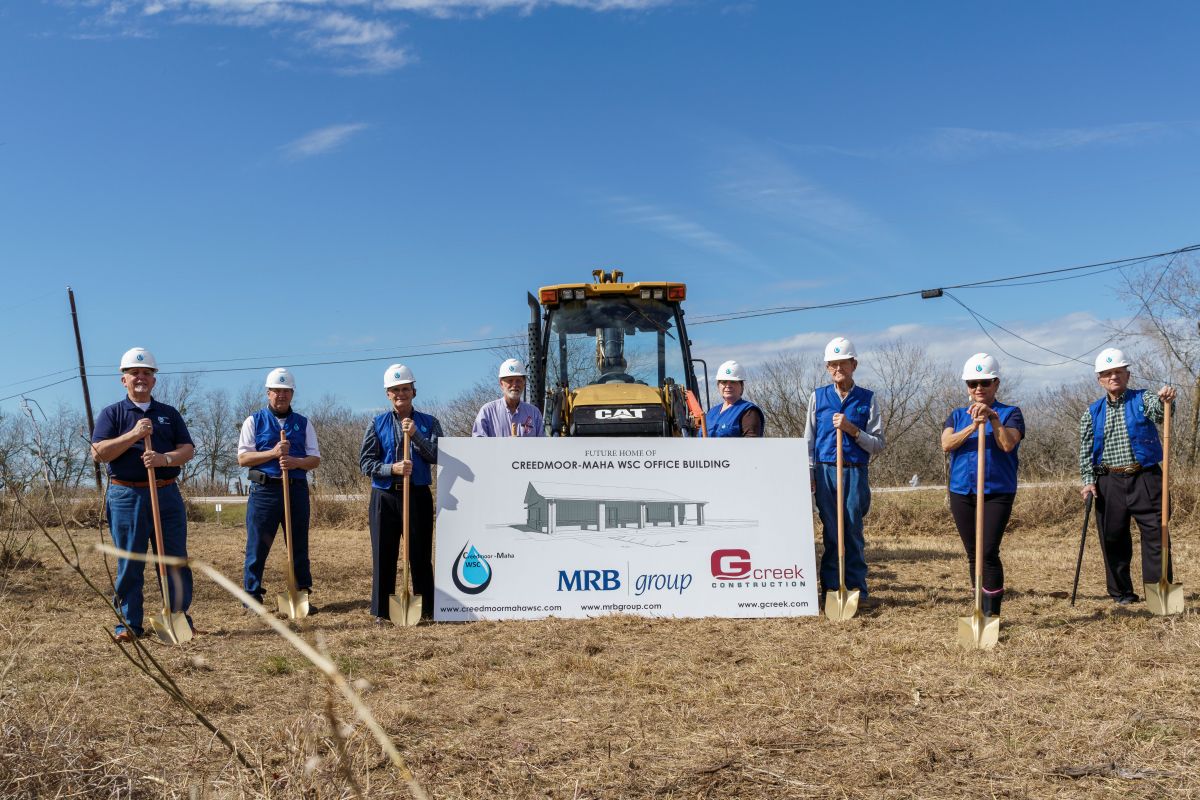 Representatives from building contractor ­­­G-Creek, The MRB Group, Creedmoor-Maha Water Supply Corporation (CMWSC) Board Members, and employees attended the event.
"As Creedmoor-Maha Water...
The January Board Meeting will be on January 21, 2020 at 6PM . The meeting will be held at the Creedmoor Community Center, 12511 FM 1625 Creedmoor, Texas.
The Community Center provides plenty of...
Texans don't always deal with the prolonged stretches of freezing temperatures that our neighbors to the north experience, but temperatures dipping below the freezing mark are common during the...
Creedmoor-Maha Water Supply Corporation has been placed under Stage II drought conditions due to the severe absence of rainfall, high usage and resulting low Aquifer levels. The Stage II Alarm...
On October 8, 2020, the Barton Springs/Edwards Aquifer Conservation District's Board of Directors declared Stage II Alarm Drought at its regular Board Meeting. A significant source of water for...
Every three months we provide our members with highlights of our operations. You can learn about highlights from July through September 2020 by downloading the newsletter here.
Only water on Tuesdays and Fridays. Even numbered residential addresses may water on Mondays and Wednesdays; odd numbers on Thursdays and Sundays. Water only between the hours of midnight and 7...
Significant water usage has placed our holding tanks in peril.
Reduced water use including landscape, water recreation, and general water use should be implemented immediately to prevent system...
Our offices are open but our lobby is closed. Payment windows are open for Cash.
Please use the drop box, USPS, Online or call 512-361-2013 to make a payment.
We appreciate your understanding...
Creedmoor-Maha WSC is constantly assessing opportunities for improvements to the water system to reduce water loss, prevent leaks, and increase water flow. In this regard, we will be embarking on...
A message from the General Manager, John Steib. Un mensaje del Gerente General, John Steib.
Dear Valued Creedmoor-Maha Water Supply Corporation Member – We want to acknowledge how very serious...
Creedmoor-Maha Water Supply Corporation has taken unprecedented steps to respond to the COVID-19 epidemic.
The drinking water is safe and will continue to be available throughout this emergency...
Coronavirus (COVID-19) Information

The health and safety of our customers and employees is a top priority of the Creedmoor-Maha WSC board and...
CMWSC was recently featured in two articles (Links to the full story provided below) in the Austin-American Statesman as a key partner with Travis County in helping to bring water to some families...